Idea 1: Bring 'Em Back Restaurant Coupons
Give all first-time restaurant customers a coupon with a simple offer redeemable on their next visit (perhaps a free aperitif, dessert or after-dinner drink). The offer should have no conditions and should be redeemable within the next 6 months. Tell the customer to bring in the restaurant coupon and make sure to ask for information that you can add to your database. Measure the results, modify the offer if needed, and if it brings you more business, make this part of your marketing system.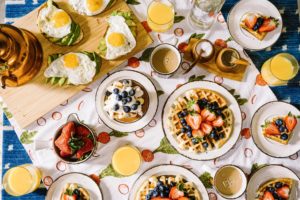 Idea 2: Celebrate Birthdays at your Restaurant
Birthdays, by their very personal nature, are an ideal time to send out a very personalized offer. Of all occasions, this is the most effective as far as restaurant marketing campaigns go. Make sure to gather birthday and contact information in your exit surveys and start a birthday campaign. Send an email or snail mail with a restaurant coupon for a complimentary dessert, drink or meal at the end of the month preceding the individual's birthday month. Allow them to use the restaurant coupon for the entire month of their birthday.
You can also propose additional birthday services. Think of ways that would make your customer's life easier – supplying the cake at a special price, giving a special group rate, or including party favors.
A special surprise such as a complimentary piece of cake with a candle and the customer's name and birthday wishes written on it is sure to appeal to the child within any customer. You'd be amazed at the invaluable positive word of mouth a simple gesture like that can create.
You can even use a birthday campaign as a way to recruit new customers by buying lists with birthdays and postal codes and sending out your special birthday offer as a way to introduce your restaurant.
Birthdays are very personal, and as we will learn, business is personal. Don't pass up this fantastic opportunity to reach out to your customers and make them happy.
Idea 3: Referral Restaurant Gift Certificates
Try this activity now for an immediate increase in your restaurant customer numbers. At the end of a meal, give happy customers 3 different gift certificates with a certain amount off for their next meal at the restaurant (or any other offer that you feel is compelling). Then give them 2 more of the dining certificates and ask them to share the certificates with their friends. The offer should be compelling and have no conditions other than a time limit. Give the recipient enough time to redeem the certificate. Perhaps make the certificate good for 6 months, or for specific downtimes that you are trying to fill.
Use the rules that apply for all offers (stating the value, making the offer traceable, capturing name, email, and birthday data on the card that needs to be filled out to redeem, measuring success and refining the offer, etc.).
These are some easy-to-implement and efficient restaurant marketing Melbourne, Australia ideas that will help grow any restaurant's profits and business.